Since 1 June 2013, all Mallorca properties that are sold or rented out (long-term rentals of 4 months or more) are obliged to present an energy certificate.
Der Energiepass, der nach Ausstellung 10 Jahre gültig ist, informiert über den Energiebedarf der jeweiligen Immobilie und sollte zusätzlich über ein Empfehlungsschreiben zur Verbesserung der Energieeffizienz verfügen. Ausgestellt werden darf dieser Energieausweis von einem Architekten, einem Ingenieur oder einem Bauführer (technischer Architekt).
Sollten Sie planen, Ihre Mallorca-Villa oder Ihr Mallorca-Apartment zu vermieten oder zu verkaufen, so ist es dringend notwendig sich einen Energiepass für Ihre Immobilie ausstellen zu lassen. Liegt der Energiepass bei Vermietung oder Verkauf Ihrer Mallorca-Immobilie nicht vor, so kann es zu empfindlichen Geldstrafen von bis zu 3.000,- Euro führen.
Subdivision of the energy efficiency classes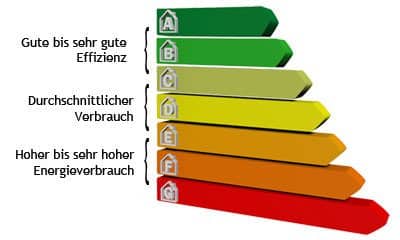 Bevor ein Energiepass ausgestellt wird, überprüft man Ihre Immobilie auf ihre Energie-Effizienz. Hierbei legt man besonderes Augenmerk auf die Isolierung, die Lüftung, die Heizung und die Beleuchtung. Schlussendlich wird eine Effizienz-Stufe zwischen A und G (siehe Grafik) vergeben, wie man es bereits von Haushaltsgeräten her kennt.
Immobilien, deren Werte nahe der Energieeffizienzklasse A liegen, können bis zu 85% weniger Energie verbrauchen als die der niedrigen Effizienzklasse G. Diese Energieeinstufung erhöht den Marktwert einer Mallorca-Immobilie (sei es Kauf / Verkauf oder Miete) entscheidend.
Cost overview for the creation of an energy passport
Die Kosten für den Energieausweis variieren und richten sich hauptsächlich nach dem Objekttyp (Haus oder Apartment) und der Wohnfläche Ihrer Mallorca Immobilie. Die hier angegebenen Kosten für die Erstellung eines Energiezertifikats dienen nur als Orientierung und verstehen sich zzgl. 21% IVA (MwSt).
Um Ihnen unnötige Rennereien zu ersparen, bietet das Unternehmen ARKItasa an, die Registrierung des Energieausweises für Sie zu erledigen. Die Kosten hierfür betragen 50€ inkl. IVA (MwSt). ARKItasa benötigt dafür lediglich eine vom Eigentümer unterzeichnete Vollmacht, um ihn bei der zuständigen Behörde, dem Ministerium für Industrie, zu vertreten. Bei Immobilien die von der Norm abweichen, erstellt Ihnen das Team von ARKItasa vorab einen Kostenvoranschlag.

C/ Maquinaria, nº 4 2º Despacho 12
07013 Palma de Mallorca
Tel: +34 626 302 043
Fax: +34 971 254 112