Since 1 June 2013, all Mallorca properties that are sold or rented out (long-term rentals of 4 months or more) are obliged to present an energy certificate.
The energy pass, which is valid for 10 years after issuance, provides information about the energy requirements of the respective property and should also have a letter of recommendation for improving energy efficiency. This energy certificate may be issued by an architect, an engineer or a site manager (technical architect).
If you are planning to rent or sell your Mallorca villa or Mallorca apartment, it is urgently necessary to have an energy pass issued for your property. If the energy pass is not available when you rent or sell your Mallorca property, this can lead to severe fines of up to 3,000 euros.
Subdivision of the energy efficiency classes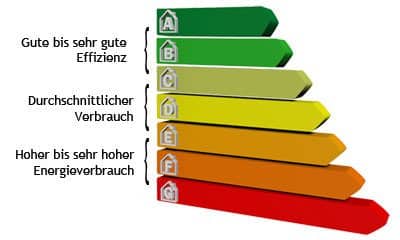 Before an energy pass is issued, your property is checked for energy efficiency. Particular attention is paid to insulation, ventilation, heating and lighting. Finally, an efficiency level between A and G (see graphic) is assigned, as is already the case with household appliances.
Properties whose values are close to energy efficiency class A can use up to 85% less energy than those in the lower efficiency class G. This energy classification significantly increases the market value of a Mallorca property (whether it is buying / selling or renting).
Cost overview for the creation of an energy passport
The costs for the energy certificate vary and depend mainly on the type of property (house or apartment) and the living space of your Mallorca property. The costs specified here for the creation of an energy certificate are only intended as a guide and do not include 21% IVA (VAT).
In order to save you unnecessary running around, the company ARKItasa offers to register the energy certificate for you. The costs for this are €50 incl. IVA (VAT). ARKItasa only needs a power of attorney signed by the owner to represent him at the competent authority, the Ministry of Industry. For properties that deviate from the norm, the ARKItasa team will provide you with a cost estimate in advance.

C/ Maquinaria, nº 4 2º Despacho 12
07013 Palma de Mallorca
Tel: +34 626 302 043
Fax: +34 971 254 112